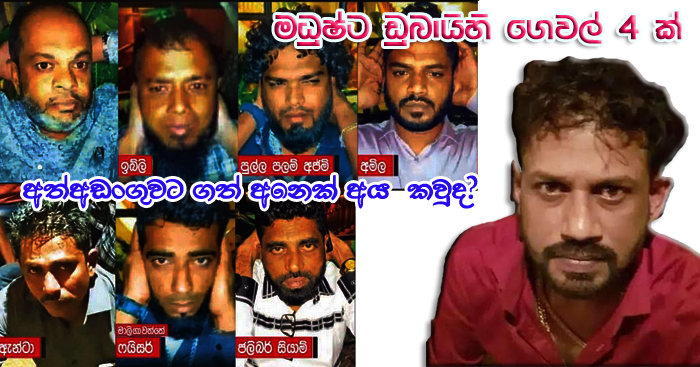 4 houses belonging to Madush in Dubai -- who were the others taken into custody?
Investigation information reveals that among the twenty suspects taken into custody inside the six star hotel with Makandure Madush were two police officers, three prison officers and a person who owns a diplomatic passport too.
It was reported that after the arrest, 4 houses supposed to be belonging to Madush which he is understood to have made use of were subjected to a search yesterday (6) by Dubai Police and a sum of over rupees fifty crores was found inside the houses. It was further reported that subsequent to this
incident, on search operations carried out, over 100 persons were arrested yesterday (6) as having been involved in various forms of crimes linked to the Madush gang.
Further, blood samples of Madush and the 20 persons who were arrested during the course of the birthday celebrations of the child of Makandure Madush's second marriage was secured at the event which was held at the six star hotel. Wife of Makandure Madush's first marriage presently lives in the village of Makandura, Matara. However, Madush got down wife of Maharagama Kalu Thushara, the latter of whom died in the attack in Welikada in the year 2012 and made her his wife of the second marriage and is living in her company in Dubai.
The child living in Dubai belongs to Madush and to celebrate his sixth birthday Madush has invited his colleagues when Dubai security personnel launched this raid. Of those apprehended is popular singer Amal Perera, his son Nadeemal Perera and tele-drama actor Ryan Van Royan who are in custody. It is reported that their blood samples were taken to detect whether they have taken any illicit drugs.
Apart from underworld leader Makandure Madush, Kanchipana Imran, Keslwaththe Dinuka and Angoda Chutte, there are Palam Ajme, Jaliber Siyam, Aluthkade Ishley, Amila Anta, Maligawatthe Faizer, Seeduwe Dimuthu and Thalalle Sanje.
A few minutes prior to the raid on the hotel, in order to smoke a cigarette, underground leader known as Angoda Lokka has left the hotel complex and thus escaped arrest. It was this Angoda Lokka who pioneered the shooting of underground leader Samayan of Kalutara, Ethanamandala in February, 2017 who was the main target. As a result of that shooting, Samayan, four of his accomplices and two prison officers died. This murder too was was carried out under instructions of Madush and subsequently Madush, Angoda Lokka and one of his accomplices, Athurugiriye Lediya were sent out to India in boats. After that when bogus passports were forwarded with the motive of coming to Dubai Madush Samee, they were arrested by Indian Emigration and Immigration officers. Angoda Lokka and Lediya who were posted to a detention camp there, managed to escape from there and once again started activities with Madush.
In any case, Foreign Affairs Ministry and Ministry of Defence authorities have conducted discussions yesterday (6) to effect diplomatic procedures to bring down Madush and the crowd taken into custody in Dubai. High ranking police official news says that a special police team is ready to travel to Dubai at any time.